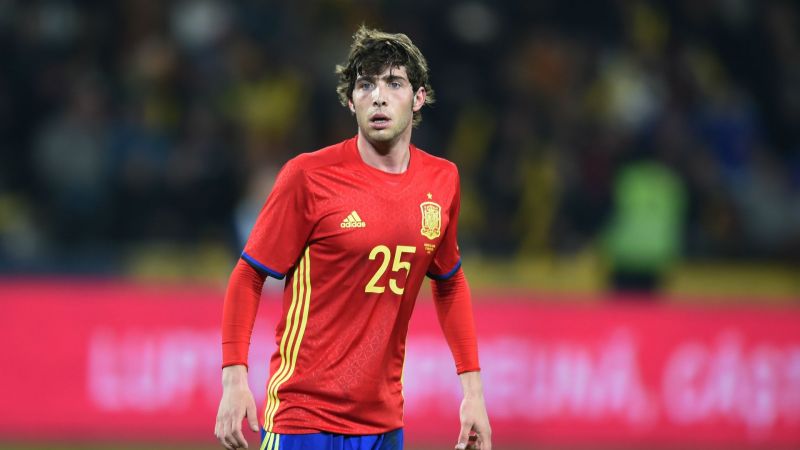 As Sergio Ramos and Mohamed Salah tumbled to the turf in the 26th minute of the 2018 Champions League Final, ripples immediately reverberated throughout the world football. Salah's shoulder injury not only had major implications for the Final itself, but also seemed to spell the end of the Cinderella run Egypt appeared poised to embark on in the World Cup a few weeks later.
However, while Salah's injury was consequential, Dani Carvajal's limping off in the same game due to a hamstring strain may prove even more important as it hamstrings Spain's depth at right back heading into the World Cup. With Sociedad youngster Alvaro Odriozola, 22, the only other natural right back in the squad, the omission of Barcelona's Sergi Roberto looks increasingly foolish. Although Carvajal returned to training on Tuesday, Odriozola's shaky performance against Tunisia in Spain's final friendly ahead of the tournament – Lopetegui hauled him off at half time – leaves a big question mark over who would play at right back if Carvajal cannot regain 100% fitness. With Portugal awaiting in Spain's first game in Russia, whoever plays on the right will be tasked with nullifying Cristiano Ronaldo. There is no margin for error.  
Although both Nacho and Azpilicueta can deputise at right back – the latter actual converting from right back to center back this season for Chelsea – Lopetegui could have avoided this whole problem had he called up Sergi Roberto to the squad in place of the still green Odriozola. In fact, not only was Roberto statistically superior to Odriozola both offensively and defensively this season in La Liga, Sergi even surpassed Carvajal in many of those same metrics. Additionally, journalists voted Roberto into the La Liga team of the season ahead of…you guessed it: Carvajal and Odriozola.
Of the three players, Roberto had the most assists and the second most tackles and interceptions. Odriozola trailed in both of the defensive categories despite playing over 500 more minutes than his compatriots. Sergi also led both players by a wide margin in Squawka's total, attack, and defence scores. Odriozola again lagged behind his more experienced countrymen in all three measures.
From a more anecdotal perspective, Roberto has demonstrated clutch ability while Odriozola in his nascent career has looked overawed at times in big games. Sergi announced himself to the football universe when he stood in for Messi in the November 2015 El Clásico and didn't skip a beat when only 11 minutes into the game he assisted Suarez after a searing run through the middle of the field. Sergi further etched himself into Barcelona lore when he completed La Remontada against PSG in Spring 2017 after scoring the sixth goal in Barcelona's amazing 6-1 victory. While Roberto has shown time and time again that he can perform on the biggest stage, Odriozola has not. For instance, the last time the Spaniard faced Ronaldo, the prospect suffered a 5-2 shellacking at the hands of Real Madrid with the Portuguese man himself grabbing a hat trick. Although Odriozola has had fewer chances to play in high pressure games given his club and youth, Lopetegui should not have ignored Roberto's proven track record.
The World Cup is the biggest stage in World Football. Given Spain's status as one of the favorites heading into the tournament, Lopetegui's decision to bring in a relatively inexperienced youth player over an accomplished player at one of Spain's top clubs just seems odd. If Carvajal is not fit for the fixture against Spain and Odriozola starts in his stead, Lopetegui's decision will face the ultimate scrutiny. And if after the starlet's weak game against Tunisia, Hierro, Lopetegui's successor after the manager's unceremonious exit earlier this week, elects to play Nacho or Azpilicueta at right back instead, you have to ask yourself what was the point of bringing Odriozola at all?
Feature image courtesy of Marca