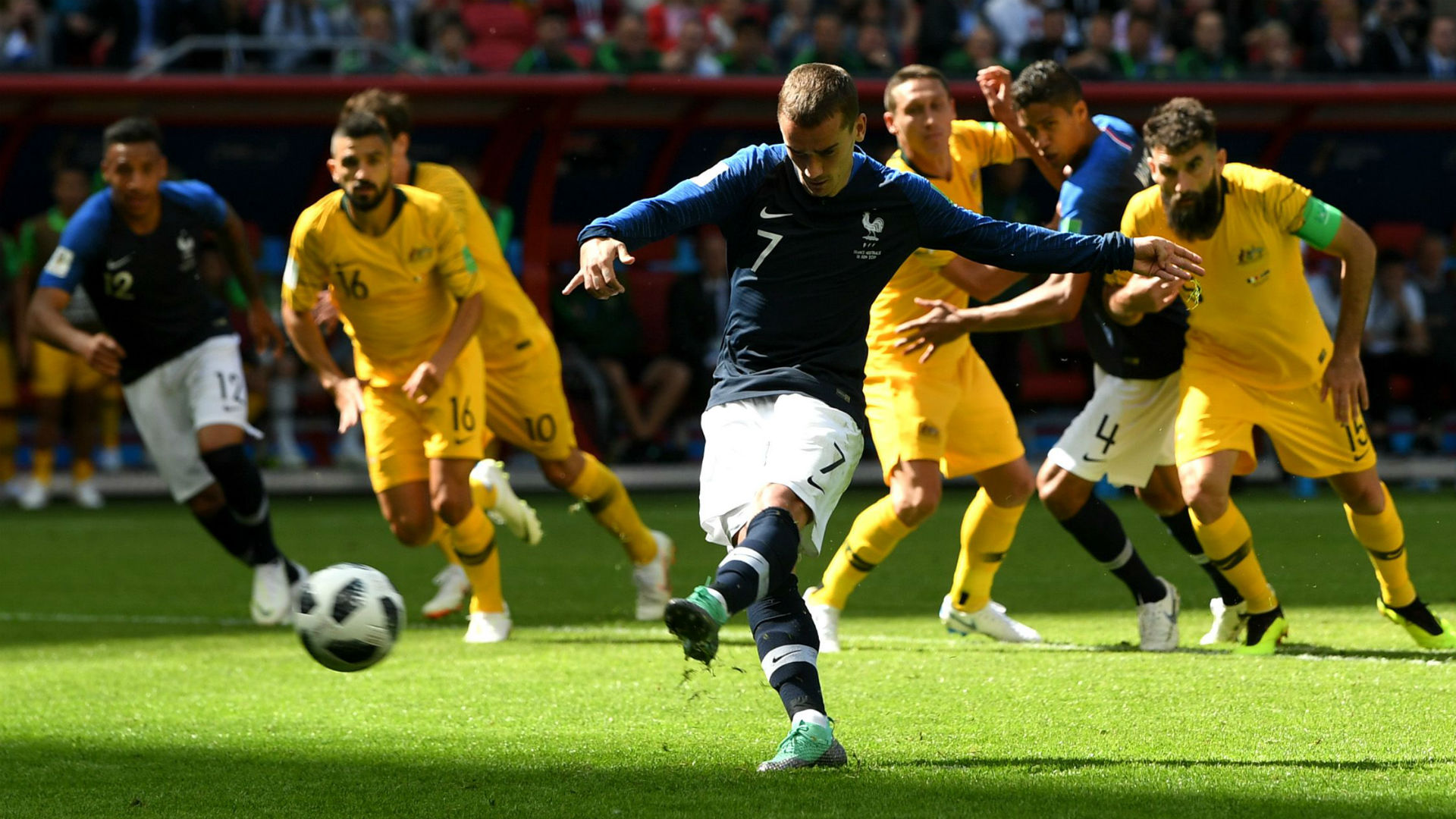 Mirroring the early kickoff time in America (6 A.M. EST), France began their World Cup journey with a lethargic 2-1 victory over a plucky Australia side. Les Bleus went with pace and trickery in the fixture by starting the trident of Kylian Mbappe, Antoine Griezmann, and Ousmane Dembele in a 4-3-3. Australia proved resolute throughout the first half and Aaron Mooy's delivery from free kicks caused trouble for France's defence. France took the lead in the 58th minute after VAR awarded France a penalty after a mistimed challenge from the Socceroos' Josh Risdon. Griezmann duly put it away, but a handball from Samuel Umtiti allowed Mile Jedinak to level from the spot just minutes later. With time counting down, Paul Pogba broke out of his shell and scored an awkward chip that secured France's belabored win.
France's stars show lack of cohesion:
France's final tune-up before this tournament was a dull 1-1 draw against a young and defensive-minded United States team. Although France trotted out a strong starting 11, the team could not break down the deep lines of the US. In response, in this game, manager Didier Deschamps drafted in Dembele for Giroud, Tolisso for Matuidi, Pavard for Sidibe, and Hernandez for Mendy in hopes of loosening up the team and fostering positive build-up play. That result did not precipitate today, and the substitution of goal-scorer Griezmann and Dembele as well in the 70th minute for Giroud indicated as much. Les Bleus played without chemistry or swagger and did not make up for these deficiencies with high work rate or energy. Despite the ultimate victory, Peru and Denmark may start to smell blood in the water if France do not improve.
Australia's game plan nearly works:
Before the fixture, Australia coach Bert van Marwijk spoke candidly about his sides chances: "Normally, we play 10 times against France, maybe we lose eight, nine times. We have worked hard to get a situation that maybe we lose five, six times (out of 10) but we also can win a few times and a few times draw." Australia consistently frustrated France's technical attackers while capitalizing on numerous set pieces. Organized, strong, and unafraid, the Australian players nearly played their game plan to perfection. Aaron Mooy was a particular stand-out for this Australia team today, with his patient midfield play and excellent vision on display. In an Australia side with little international pedigree, Mooy's Premier League experience certainly gave the Aussies some extra poise. A draw was probably deserved.
VAR proves decisive:
For the first time in World Cup history, the referees used VAR to award a penalty. After initially waving away Griezmann's penalty claim, Andres Cunha reviewed Risdon's tackle in the VAR booth. Although nearly a minute of play had passed since the foul and the review caused a small delay in play, this first major use of VAR was overall a positive one.