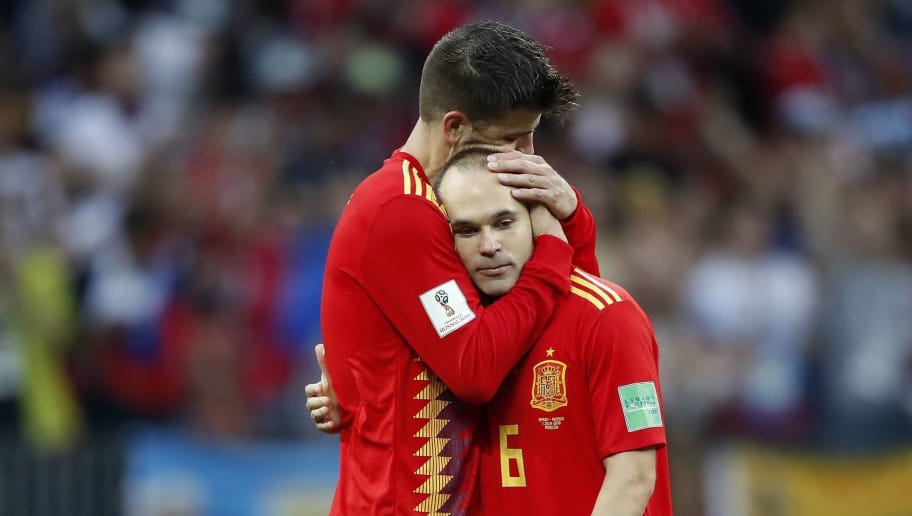 I always eat the celery first. That initial crunch of vegetable doused in blue cheese dressing prepares me for the heat to come: those ever ubiquitous, sports bar Buffalo wings that even as they sting your mouth and numb your hands are somehow calming before a big game. And it was a big game. Spain were squaring off against the Netherlands in the Group B opener of the 2014 World Cup. Ranked number one in the world at the time, Spain had high expectations for themselves, considering they were the reigning European and World Champions. However, as soon as Daley Blind arrowed a perfect ball from the left that Robin Van Persie header-lobbed over Iker Casillas from 14 yards out, the darkness settled in.
The champions went out in the group stage. It's now a storyline we know too well. Four out of the last five winners of the World Cup have gone out in the following group stage, with the latest being Germany, whom South Korea knocked out only a week ago. Yet unlike with Germany, the capitulation of Spain felt like a repudiation of beauty itself. Tiki Taka, an evolution of the Dutch total football that Johan Cruyff brought to Barcelona as a player in the 70's and as a coach in the late 80's and 90's, had failed. In that game, the recently naturalized Diego Costa looked disjointed from his teammates. The brass knuckles he added to the team rather than injecting power simply weighed Spain down.
As painful as it was, the changing of the guard began. Xavi and Xabi Alonso bid La Furia Roja farewell, while Casillas would never play a major tournament game again. After Euro 2016, where Spain again faltered, losing to Croatia in the group stage and then to Italy in the first knockout round, Vicente del Bosque stepped down, and the team he nurtured now bore the eternal scars from the forest fires of the previous two tournaments.
But then stepped in Lopetegui, who had managed a swashbuckling Spanish U-21 team that teased and twirled their way to a European Under-21 Championship in 2013. He seemed the perfect man to assimilate Thiago, Isco, and Koke into their positions in the national team. He steered them almost flawlessly through World Cup Qualifying, but then the darkness returned when he was sacked a mere 48 hours before the tournament began after secretly taking the Real Madrid job.
Spain, who appeared so close to coming out of their four year funk, plunged into disarray again. They qualified out of their group, despite uncharacteristic defensive errors, but lost in penalties to Russia in the Round of 16 . Now Iniesta is gone, Ramos and Pique are in their early 30's, and Busquets will join them soon. Over one thousand passes and 24 shots with nine on target couldn't undo the Russians. Their only goal was an own goal from a corner. Isco and Koke's nearly 300 passes between them meant nothing. The deft moves and quick-switching hips from El Ilusionista were worthless.
When the sum of brilliance is failure, how is one to proceed? Is this truly the end of Tiki Taka? As Iniesta said when he announced his retirement, "A marvelous stage is over. Sometimes the end is not as you want." Those forest fire scars only deepened at this World Cup, but perhaps that's what the pinecones needed to open up. For Spain and for football, let's hope so.