On a torrid and torn up pitch, Barcelona defeated Valladolid 0-1 away from home in a strange match. Former Barcelona keeper Jordi Masip kept the Blaugrana at bay in the first half, as both teams struggled to establish any rhythm because of the bumpy field. In the second half, a tactical switch from Ernesto Valverde brought Ousmane Dembele to the right wing, where he was able to stab home a volley from a Sergi Roberto header. Luis Suarez nearly broke his early season duck, but VAR confirmed that he had strayed just offsides. Valladolid looked like they had made a late breakthrough with a header goal in the 93rd minute, but again VAR stepped in and showed that Pique had played the tightest of lines to catch Keko offside.
The Pitch Stole the Show
Valladolid's pitch literally fell apart today. From kickoff, any attempt by a player to accelerate immediately dug up a huge clump of the turf. Teams in the past have used sneaky tactics to try to make the pitch work against Barcelona – Valladolid themselves previously refused to cut or water the grass ahead of a matchup against the Spanish giants – but today was another level of awful. The effect of the disastrous conditions was the complete annihilation of Barcelona's build-up play, and were it not for a moment of brilliance from Suarez, Roberto, and Dembele, Valladolid would have gotten away with their trick too.
Questions Remain About Suarez
For the second La Liga game in a row, Suarez underwhelmed. He missed an admittedly tight one-on-one with Masip after Coutinho sent the Uruguayan through; however, as commentator Phil Schoen noted, perhaps in years prior, Suarez would have finished that chance. In general, he struggled to get into good attacking situations and finished with only two shots in the game. Most worryingly, El Pistolero turned in this performance despite working quite hard. It was actually kind of sad to see his effort go unrewarded, but the numerous times he was simply too slow to make a play was worrying. These new criticisms follow a summer of questions surrounding the striker's lack of match fitness with Uruguay at the World Cup. With Malcom, Munir, and Paco Alcacer waiting in the wings, how many more shots will Valverde give his star man?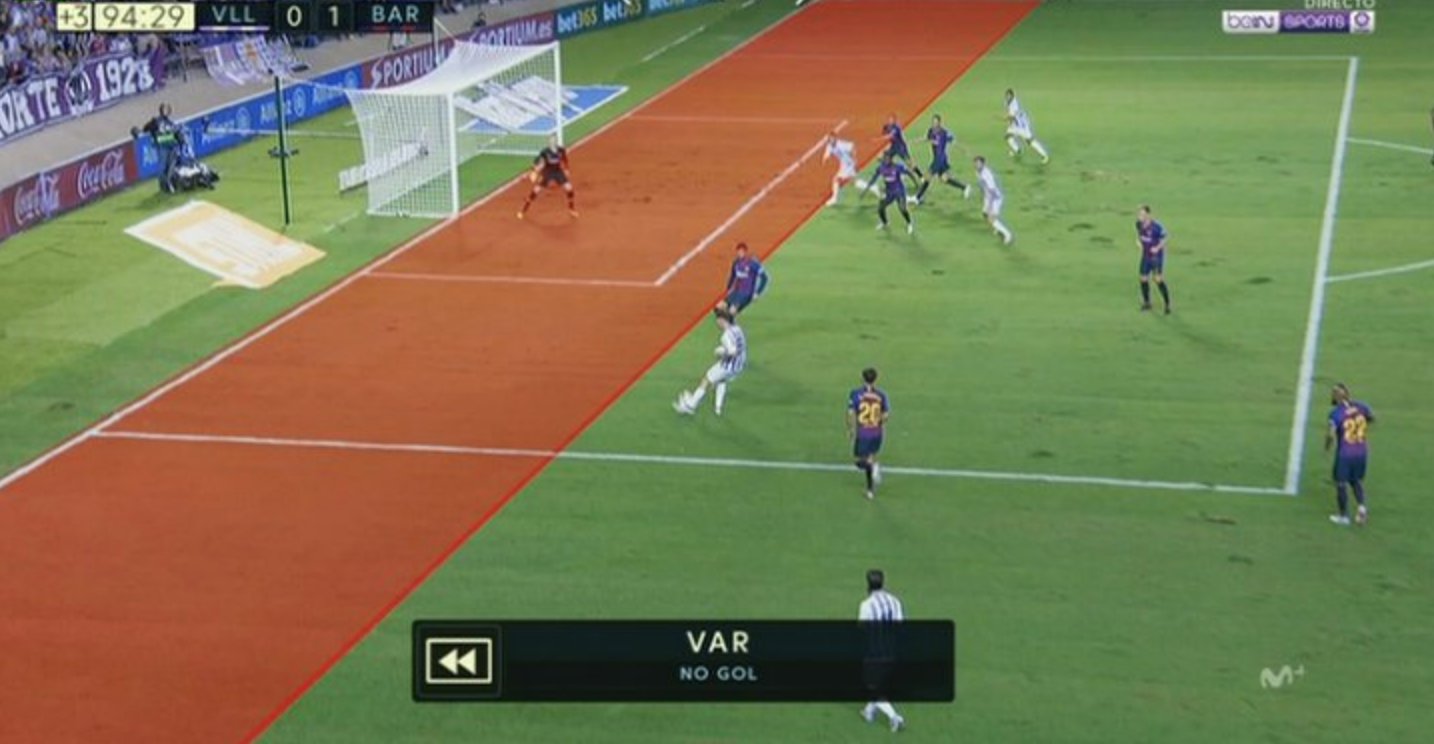 VAR Makes an Impact
On the same day that the lack of VAR in England arguably cost Manchester City two points against Wolverhampton, VAR played a key role in today's proceedings in Spain. First, it helped the referees disallow Suarez's goal due to offsides, and secondly it ruled out a late Valladolid equalizer for offsides as well. The second ruling was particularly impressive, because Keko was only inches offsides when he scored, and the speed at which the play occurred made it difficult for a referee to see in live time. It upheld the rules of the game in a way that in the past was impossible. This technology is a huge step forward for the fairness of the sport, and despite the pain Valladolid feel today, in the long run, every team will be better off for it.